Besh Ba Gowa
Copyright: Gila County - All Rights Reserved
Tonto Natural Bridge
Copyright: Arizona State Parks - All Rights Reserved
Besh Ba Gowa
Copyright: Gila County - All Rights Reserved
ROOSEVELT BOATING FUN
ITINERARY
RotationPictures_Roosevelt_1a-compressor
Photo Courtesy: San Carlos Apache Tribe
RotationPictures_Roosevelt_4-compressor.
Weather_roosevelt_thumbnail
RotationPictures_Roosevelt_1a-compressor
Photo Courtesy: San Carlos Apache Tribe
Adventure Highlights:
​
Camping

Native American History & Culture

The largest lake in Arizona

Access to Bass Fishing

Water Skiing, Wake Boarding, Jet Skiing
​
History:
​
Theodore Roosevelt Lake was formed by the construction of a masonry dam on the Salt River in 1911, making it the oldest artificial reservoir in Arizona. About ten miles of the original river are now beneath the waters, and in the other direction one of its major tributaries, Tonto Creek, is flooded for about 8 miles although the lake level and hence the overall length is quite variable. The reservoir is a major center for fishing, boating, camping and general vacationing, and despite being quite close to Phoenix, the shortest route is via the partly unpaved Apache Trail.
Find A Place To Stay
---
First before you start your adventure we would like to invite you to choose a place to stay in the area that you can call home base. Find the cities you will be visiting and locate a place to stay. [ Click Here ]
---
How To Get There
---
Below you will find important information on how to get to each of the attractions on this Itinerary. Day 1: San Carlos Apache Cultural Museum
Museum in the Peridot, Arizona
Address: Mile Marker 272, Highway #70, Peridot, AZ 85542
Phone: (928) 475-2894
[Map it] [Website] Apache Gold Casino Resort
Address: 5 US-70, San Carlos, AZ 85550
Phone: (928) 475-7800 [Map it] [Website] Day 2: Globe Arizona
[Map It] [ More Info] Besh-Ba-Gowah Besh-Ba-Gowah Museum
Address: 1324 S Jesse Hayes Rd, Globe, AZ 85501
Phone: (928) 425-0320 [ Map It] [ More Info]

Tonto National Monument Address: 26260 AZ-188, Roosevelt, AZ 85545 [ Map It] [ More Info] Day 3
Payson, Arizona
[ Map It] [ More Info] Shoofly Indian Ruins
Address: 1-5 Houston Mesa Rd, Payson, AZ 85541Open all day
[ Map It] [ More Info]
Tonto Natural Bridge State Park
Address: Highway 87, Pine, AZ 85544
Phone: (928) 476-4202 [ Map It] [ More Info] Mazatzal Hotel & Casino
Address: Highway 87, Mile Marker 251, Payson, AZ 85541
Phone: (928) 474-6044
[ Map It] [ More Info]
---
Where To Eat
---
A key component of any adventure is finding a place to eat. Gila County has a great diversity of foods and places to eat. For a complete list by city [ Click Here ].
---
What To Plan For
---
While visiting the these parks and museums, please help us protect this special places for your future enjoyment.
General Information • Please practice "Leave No Trace" and pack out what you bring in.
• For everyone's safety, please drive your vehicle only on paved surfaces and stay on designated trails.
• For your safety, please don't use glass containers in any the places on this itinerary
• All of these parks and museums adhere to firearm and hunting regulations. Please familiarize yourself with this information.
Pets
• For the enjoyment of your visit and the consideration of our other guests, we ask that you keep your pet on a maximum six-foot leash at all times.
• Each place on this itinerary has specific pet policies that must be followed. Make sure if you have questions you contact them first to make sure your pet can be included in your adventure.
Weather
• Depending on the time of the year it can be hot and cold. So check the weather beforehand to make sure you have the proper clothes and accessories.
Considerations:
• Due to the nature of this Itinerary there are several places that are fee based or you must buy a permit to enter. Please read carefully the information on each part of this itinerary to make sure you are prepared.

---
DAY 1: San Carlos Apache Lands
---
Apache - Nde (The People) are a culturally rich Nation with heritage tied to Mother Earth, evident to this day our existence is steeped in thousands of years of lineage in descending knowledge passed down generational since time of creation, The People welcome you to engage our community, through trade, discover our intelligence and knowledge. We welcome exchange with all, to share a unique culture and rich history. Hon Dah - Welcome, come in.
Day 1:
Visit the San Carlos Apache Cultural Museum
The San Carlos Apache Reservation was established on November 9, 1871and is the world's first concentration camp still existing to this day. Our story is the American History, come explore to meet the people and hear thier stories first hand.
Fine crafted items of adornment, burden baskets from world renowned artists, Apache Cradle Boards ornamental and full size available. Peridot jewelry, paintings, carvings & sculptures flanked by beaded caps, key chains and books of Apache history, a true resource of information and wealth of knowledge awaits you. A true opportunity to meet community representatives "Mountain People" descendants of the ancients - Nde "The People" in person.
San Carlos Apache Cultural Museum


Museum in the Peridot, Arizona
Address: Mile Marker 272, Highway #70, Peridot, AZ 85542
Phone: (928) 475-2894[Map it] [Website]
Visit Apache Gold Casino and Golf Resort
History:

Apache Gold Casino Resort is owned by the San Carlos Apache Tribe whose tribal land covers over 1.8 million acres in eastern Arizona, from the Sonoran desert to Ponderosa pine forests. The Tribe's ancestral lands once stretched across Arizona into New Mexico. Historically, the San Carlos Apache were hunters, and they have deep cultural and spiritual ties to the land. The tribe has made the decision to keep most of its land in a natural state, which protects the habitat for big and small game and allows the Apache to preserve their special and personal relationship with the natural world.



Gaming Fun:

Apache Gold Casino, located five miles east of Globe, Arizona on Highway 70, features 600 of the newest slot machines, available 24/7. Discover the most penny slots in the State along with exclusive games like Apache Ponies. Find state-of-the art video and reel slot machines and progressives as well as Black Jack. Play at our 200-seat Bingo Hall that's open five days a week. Enjoy it all in a friendly and casual atmosphere that promises more uninterrupted play which means more chances to win. Join our Player's Club to win valuable points for prizes and "perks" -- like rounds of golf, hotel stays, and dining.
At the Apache Gold Casino Resort, the magic of the "Apache Gold Legend" lives on. Untold riches lie in this desert oasis, awaiting discovery. Apache Gold Casino Resort brings you fun, excitement and the thrill of winning 24 hours a day. . . every day! Our doors are always open.



#1 Golf Course in Arizona:

Ranked by Golfweek Magazine as one of the top golf courses in Arizona. Apache Stronghold Golf Club is an 18-hole, par 72 high desert golf course with a USGA rating of 74.6 and a USGA slope of 145. Opened in 1999, the 7,519 yard-long course was designed by Tom Doak and challenges golfers with natural features including desert washes, rolling topography and natural rugged bunkers. The mountain and desert vistas are panoramic and unspoiled. At 3,200 feet elevation, the golfing experience is cooler than nearby Phoenix and Tucson during the summer months and mild during the winter season. With five sets of tees to choose from, this memorable course accommodates serious to casual golfers. The property includes a driving range and clubhouse.



Apache Gold Casino Resort


Address: 5 US-70, San Carlos, AZ 85550
Phone: (928) 475-7800
[Map It] [Website]
---
Day 2: Globe, Besh-Ba-Gowah & Tonto National Monument
---
Day 2: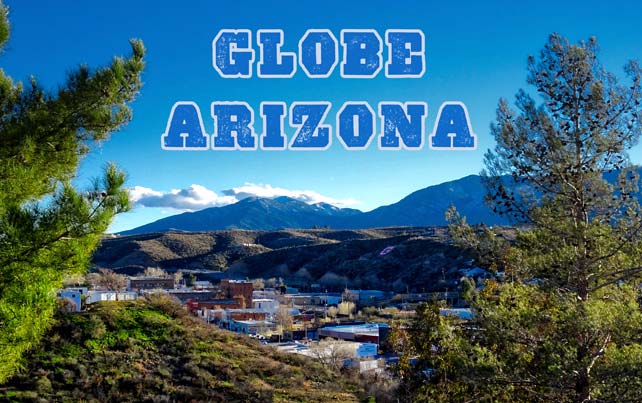 Since the times of the Spanish conquistadors, it was known that mineral deposits could be found in and around the Pinal Mountains. When mountain men explored the area in the 1820s and '30s, they also recognized the mineral wealth located there, but Apaches were far too numerous to do serious prospecting.

Parties led by Corydon E. Cooley and Calvin Jackson were the first white man to extensively explore the mineral wealth of the region. Jackson continued to prospect in the Pinal Mountains and was joined by a former member of Cooley's expedition, William A. "Hunkydory" Holmes. When these prospectors began to be harassed by Apaches, they constructed a rough fort in late October 1869 at Big Johnny Gulch, 2 miles north of what would later become Globe.

They never found gold, but they did discover silver, and in November 1870, 15 claims were staked at what was to become one of the richest mineral districts in the US. In 1871 they organized themselves into the Pinal Mining Company, at a place they called "Cottonwood Springs, Arizona Territory." Soon other prospectors also began making claims throughout the region.

Informaiton provided courtesy of desertusa.com
Explore the Prehistoric Salado Masonary Pueblo - Besh-Ba-Gowah
Besh-Ba-Gowah is a 200-room prehistoric Salado masonry pueblo located atop a broad ridge overlooking Pinal Creek. The site is situated one mile southwest from Globe, Arizona and surrounded by a small city park and adjacent museum with excavated items including prehistoric pottery, stone and woven artifacts. The site is operated by the city as Besh Ba Gowah Archaeological Park and Museum.

Besh-Ba-Gowah was occupied by Salado populations between AD 1225 and AD 1400. "Salado" is the term applied to the complex of cultural attributes of the prehistoric peoples who inhabited the Globe/Miami and Tonto Basin regions between AD 1150 and AD 1450.

Besh-Ba-Gowah architecture consists of multi-storied, masonry room block clusters connected by long, narrow corridors or elongated plazas. These room blocks, and corridors are situated around a large communal plaza area measuring 12 meters north/south by 27 meters east/west.

Material recovered from Besh-Ba-Gowah has formed the foundation for the profession's current understanding and definition of the Salado culture concept. Thus, Besh-Ba-Gowah is considered one of the Salado culture "type sites".
Eat Lunch in Globe, Arizona
Globe is well known for its menu diversity. Everything from pizza to tasty burgers to what it is best known for and that is AWEsome Mexican Cuisine. For a full list of places to eat [ click here ].
Discover The Ancient Cliff Dwellings of the Tonto National Monument



The Salado Phenomena, 700 years ago, blended ideas of neighboring Native American cultures to emerge a unique and vibrant society. Tonto National Monument showcases two Salado-style cliff dwellings. Colorful pottery, woven cotton cloth, and other artifacts tell a story of people living and using resources from the northern Sonoran Desert from 1250 to 1450 CE.
---
Day 3: Payson, Shoofly Ruins & Tonto Natural Bridge
---
Visit Payson, AZ

Payson considers its founding year 1882, at which time the town was known as "Green Valley". On March 3, 1884, a post office was established with the help of Illinois Representative Levi Joseph Payson. The first postmaster was Frank C. Hise. In honor of the representative's help, the town's name was changed to "Payson".
Payson had its first rodeo in 1884. It considers its rodeo the "world's oldest continuous", as it has been held every year since.
In 1918 author Zane Grey made his first trip to the area surrounding Payson. He would come back with regularity through 1929, and would purchase two plots of land near Tonto Creek, including 120 acres (49 ha) from Sampson Elam Boles under Myrtle Point. Grey wrote numerous books about the area and also filmed some movies, such as To the Last Man, in the Payson area in the 1920s.
During Prohibition the manufacture, sale, and distribution of liquor was plentiful. The transactions took place on historic Bootleg Alley.
During the 1930s an effort began to try to get Payson a better road to connect it to the outside world. At that time the town was very isolated, with a trip from Phoenix to Payson taking eight to twelve hours. Throughout the 1950s work on a paved road from Phoenix to Payson progressed, and the road was completed in 1958. A few years ago[when?] this highway, State Route 87 (also known as the "Beeline Highway"), was expanded to four lanes.


Shoofly Village Archaeological Ruins offers visitors a self-guided tour back into another era. At one time, the Rim Country was home to probably 1,000 different sites, the very heart of the prehistoric cultures in the Southwest. The people who lived in the Rim country -- known variously as Mogollons, Ancient Ones or Bunheads -- were literally surrounded by the Sinagua to the north, the Anasazi to the northeast, the Mogollon to the southeast, the Salado to the south, and the Hohokam to the southwest.The Shoofly Indian Ruins were believed to have been occupied between A.D. 1000-1250. At an elevation of 5,240 feet, Shoofly Village once had a total of 79 structures of which the rock outlines, once the base of the walls, are still visible. At the center of this site is where a larger structure once existed, believed to have been a building with 26 rooms averaging 37.4 square meters each, and part of this structure was perhaps two stories high. In clusters around the core area were 39 smaller structures and 14 more were scattered about the general area and at least one of these structures had a curved wall. The entire compound of approximately 3.75 acres (1.5 hectares) is enclosed by a small rock fence.

Located atop the northern edge of Houston Mesa, the immediate area is comprised of grassland and sparsely populated with Juniper and Chaparral. The average annual rainfall for the area is about 20 inches. Shoofly Village Ruins is easily accessible...a mere 100 yards off Houston Mesa road (all paved).

This site was first recorded in 1930 by archaeologist John Hughes but full scale excavations did not occur until 1984. These excavations were conducted by Dr. Charles Redman from Arizona State University, as a field school program, over a four year period. More excavations are being considered. The people who once occupied the Shoofly Village appeared to have been similar to those who once occupied the Flagstaff, Arizona area and also the Sinaqua from the Upper Verde Valley but with notable differences. It is believed the Shoofly residents possibly had, or once had, Hohokam ties. As both farmers and hunters, they grew corn, beans, squash, possibly cotton and successfully hunted deer, elk, rabbits, rodents, birds, and migratory fowl (ducks and geese). It is also believed they may have raised turkeys (wild turkeys are indigenous to the area). Their brown clay pottery were mostly jar-shaped vessels but were not decorated with designs. The decorated pottery found was believed to have come from the Little Colorado and Flagstaff areas. The arrowheads located were very small, less than an inch long (likely arrowhead hunters over the years found the bigger ones).Directions to the Shoofly Indian Ruins:Take Highway 87 north from Payson to Houston Mesa Road and turn east. The parking lot is a short distance beyond the Mesa del Caballo subdivision just off the paved road. Picnic tables, ramadas, and toilet facilities are provided.
Take A Step Back In Time At the Tonto Natural Bridge State Park
Tucked away in a tiny valley surrounded by a forest of pine trees, Tonto Natural Bridge has been in the making for thousands of years. It is believed to be the largest natural travertine bridge in the world. The bridge stands 183 feet high over a 400-foot long tunnel that measures 150 feet at its widest point.
The discovery of the small and beautiful valley between Pine and Payson was documented in 1877 by David Gowan, a prospector who stumbled across the bridge as he was chased by Apaches. Gowan hid for two nights and three days in one of several caves that dot the inside of the bridge. On the third day, he left the cave to explore the tunnel and green valley surrounding it. Gowan then claimed squatter's rights.
In 1898 he persuaded his nephew, David Gowan Goodfellow, to bring his family over from Scotland and settle the land permanently. After a week of difficult travel from Flagstaff, the Goodfellows arrived at the edge of the mountain and lowered their possessions down the 500 foot slopes into the valley by ropes and burros.
Today, visitors can stand on top of the bridge or hike down below to capture the true size and beauty of this geologic wonder.


Geology of the Bridge


According to state geologists, the formation of Tonto Natural Bridge went through several stages of development. The west side of Pine Creek was formed by a flow of lava in the form of rhyolite. The rock eroded, leaving behind purple quartz sandstone. The rock layers were then lithified, tilted, and faulted. The area was then covered by sea water, leaving behind sediment of sand and mud. Volcanic eruptions covered the rock layers with lava, forming a basalt cap. Through erosion, the basalt cap broke down and was shifted by faults, creating Pine Creek Canyon. Precipitation began seeping underground through fractures and weak points in the rock, resulting in limestone aquifers. Springs emerged as a result of these aquifers, carrying the dissolved limestone and depositing calcium carbonate to form a travertine dam. The waters of Pine Creek then eroded through the travertine and formed the Natural Bridge.
For More info on The Tonto Natural Bridge click here.



---
---
QUICK FACTS
​
DURATION
DESTINATION
​
BEST TIMES​
​
ADVENTURE TYPE
Water

Boating

Fishing

Camping

Trails

Remote Wilderness

Possible weather (Could be hot or cold)
​
MINIMUM AGE
​
VIDEO
​
TRAIL DESCRIPTIONS
​
More Adventure Itineraries
Click here to find many more exciting adventure itineraries. Everything from historic gun fights to hiking trails to jeeping and boating.
Find a special event to add to your Itinerary. Gila County has hundreds of events that happen year round including rodeo's, parades and more.
Discover Gila County's rich history and heritage by taking the Museum Tour. Everything from mining to Zane Gray history, pioneers, miners and cowboys.
ADD MORE TO YOUR NATIVE AMERICAN ADVENTURE
ITINERARY